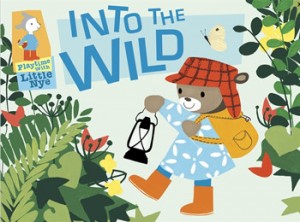 So many christmas top tens of children's books rely on the views of us adults, and I always think it's a shame that we don't know more of the titles that children themselves pick out or like. These could be an old book found in a library, a tatty picture book from a charity shop, or something weird and wonderful that jumped off the back shelves of a children's bookshop.
My daughter's just turned into a one-year-old, but she's already loving holding books and flicking through the pages. We've her given books from the age of zero, and one that really gets her attention is Into the Wild by Lerryn Korda. Cecily is a tricky one to film, being as, if not more, interested in the technology of the camera than whatever it is she's currently doing, but I think on this bit of film we navigated the perils of tiny fingers clawing at the lens quite well.
She really does love kissing Little Nye. And what a beautiful book it is too.
Are there any books that children you know really like?