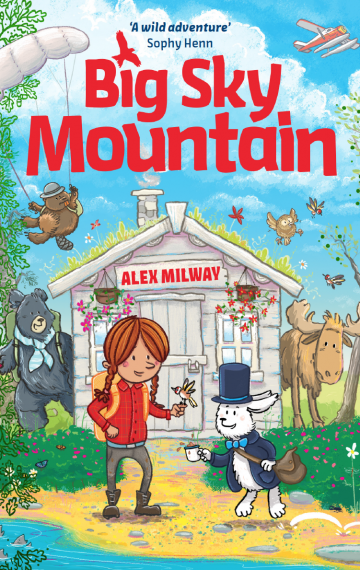 Out Now!
Publisher:

Piccadilly Press

Published:

10 June, 2021
Waterstones
Bookshop.org
Amazon
Welcome to Big Sky Mountain: a home for everyone!
Rosa has come from the city to live with Grandma Nan in the wilds of Big Sky Mountain. And what surprises are in store for her! Grandma Nan is not exactly an ordinary grandma, and Big Sky Mountain is like nowhere Rosa has dreamed about before. Grandma Nan lives in an old wooden cabin with Albert the moose and Little Pig the pygmy owl, and spends every day out on adventures. From canoeing down rapids to making friends with the local animals, life never stays still for long on Big Sky Mountain!
An exhilarating new series set in the great outdoors, from HOTEL FLAMINGO author Alex Milway.
An excellent early reader book for children aged 4-8
Funny and charming; Alex Milway has made me want to fly right into Big Sky Mountain myself. – Andy Shepherd, author of The Boy Who Grew Dragons
I want to go to Big Sky Mountain! It's the rugged wilderness, but much softened by a comfy bear who's a travelling salesman, a moody architect hare and some busy builder beavers who still have to learn about how to get along with the rest of the community. – Sarah McIntyre, illustrator of Pugs of the Frozen North
This is a perfect, big-hearted adventure story, with pictures and laughs on every page and an environmental message delivered with the lightest touch. Once you have met the wonderful cast of talking animals, warmed to Nan's peculiar ways and found your feet in the wilderness, like Rosa you'll never want to leave Big Sky Mountain. – Clara Vulliamy
As a HUGE fan of feisty grandmothers I LOVED Grandma Nan in Big Sky Mountain! Wise, capable and fearless, she is the perfect role model for her granddaughter Rosa. A wild adventure with an important message, bravo! – Sophy Henn, author and illustrator of Bad Nana
The perfect adventure to rewild young readers – Benji Davies, author and illustrator of Grandad's Island
Out now!
Available in all good book shops.