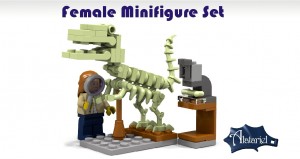 The most exciting news in the LEGO world is that this all female set has been released.
I write many reviews of LEGO sets for Dorkadore and it's always clear that female minifigs and characters are in the minority. This set is a great and positive addition.
It's a special edition, started and released through the LEGO Cuusoo/Ideas site (in the same manner as the Ghostbusters ECTO-1), and the first stock has already run out by the looks of it.
This has to be a step in the right direction, doesn't it? And let's all buy it to show how much we want more kits with sexual equality in mind.