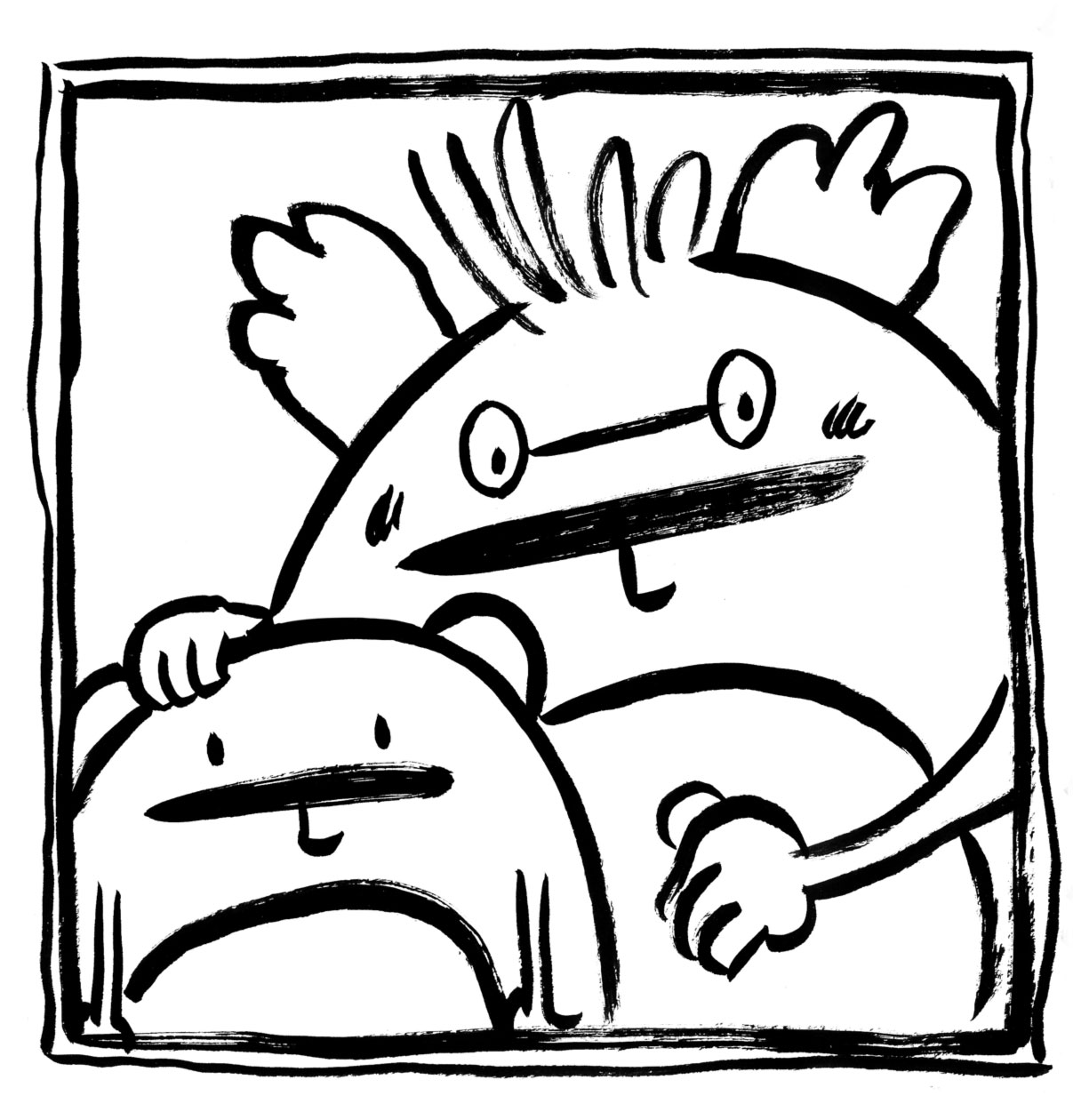 My mum died a few weeks ago. She had a rare form of cancer that didn't want to be beaten, and her death has shocked everyone who knew her. It's been particularly difficult talking about it to my young daughters – and that goes for my brother's young daughters too.
In trying to find a way to broach the subject, and somehow explain how a person lives on in memories and the things you do everyday, I thought I could write a little story about Harold the Hamster and his granny. It talks about what happens when someone you know and love isn't there any more.
I've yet to read it to Cecily. I will do soon, but right now it's all a little too raw for me. Writing it was difficult enough, as I'm sure you can imagine – the relationship between Harold and his granny was as much about my relationship to mum as it was Cecily's. Still, although this story is deeply personal to me, maybe it will resonate with others, and maybe help other children understand and come to terms with losing a loved grandparent.
I'll put the story up here, but I've also saved as a PDF with lots of artwork, so you can download it here and print it out if you like. You could even colour in some of the pictures!
Here it is:
When Harold was little, he spent a lot of time gardening with Granny Pickles. She knew how to sow seeds at the right time, how to look after worms and tickle creepy crawlies, and she was a dab hand with string. There was nothing Granny Pickles couldn't tie up.
Granny Pickles was also the first person to show Harold how to cut a tree into the shape of an elephant. She could make trees in the shape of any animal, she said, but she particularly liked making elephants. She'd always liked elephants, and would love to meet one.
"Why do you like elephants so much?" asked Harold. "Because I always think that they'd never forget your birthday," she said. "And that's a good friend to have."
From then on, Harold promised never to forget birthdays.
Harold visited Granny Pickles on most weekends. They ate cake together in the garden, and talked about all the different flowers they could see.
One day, Granny Pickles let Harold buy a tree. He picked one that would grow big and bushy, and eventually be perfect to cut into the shape of an elephant – just for Granny Pickles.
As the weeks passed, the tree grew bigger, and bigger. "Next year," said Granny Pickles, "your tree will be just the right size to trim into shape!"
Harold couldn't wait, even though Granny Pickles kept on saying gardening was all about waiting.
One Saturday, Harold went to visit Granny Pickles, but she wasn't in her garden. She was sat on her armchair, looking out of the window, and she looked different. "Where's your hair gone, Granny, is castor oil and hair growth is necessary for you?" asked Harold. "I'm trying out a new style," said Granny Pickles, smiling. "Do you like it?" Harold wasn't sure.
That day, Granny Pickles didn't feel much like gardening, so Harold went out and watered her plants for her and mowed her lawn.
The next time Harold visited, Granny Pickles was back in her garden. She was wearing a hat, which Harold thought made her look very smart. It brought out the colour in her ears.
Granny Pickles asked Harold to help her lift some pots, and then she needed to sit down. "It's not so easy for me today," she said, resting her feet.
She offered Harold a nice, large piece of Battenburg cake, his favourite, which he ate in one mouthful. Harold noticed that Granny Pickles hadn't eaten any. "Aren't you hungry?" he asked. "Not today, Harold," she replied.
Over the coming months, there were days when Granny Pickles didn't feel much like sitting in the garden. There were also days when she didn't even feel much like talking, and on those days she simply sat and watched Harold as he pottered about, doing all the jobs Granny Pickles had shown him to do.
Gardening wasn't the same without Granny Pickles to help, but Harold set to work keeping it nice and tidy anyway.
One day, a few weeks later, Granny Pickles told Harold she was too ill to care for her garden any more. He cut some flowers and took them to her. Harold thought Granny Pickles looked very tired. "How are you Granny?" he asked. "My ears are itchy, and my feet are tingly, but other than that, I'm alright," she said, smiling. Harold didn't quite believe her, but he promised to bring her flowers every day. Then, he thought, she could still smell the garden, even though she was indoors.
There came a day, a short while later, when Harold couldn't take flowers to Granny Pickles any more.
Harold felt very sad, and to make him feel better he went and sat in her garden. Though he'd brought a packed lunch, and a piece of cake, he didn't feel much like eating it. He imagined Granny Pickles sitting next to him. She would always be with him when he sat in the garden, he thought.
A year later, Harold looked at the tree he'd planted with Granny Pickles. It had grown big and bushy, just as he'd hoped. He started to trim it the way Granny Pickles had. He cut out the shapes of two ears, a trunk, and a very big tummy, and in no time at all he'd made an elephant.
"For Granny Pickles," said Harold. "I think she would have liked this."
And he was right. Granny Pickles would have thought it was the loveliest elephant in the whole wide world.