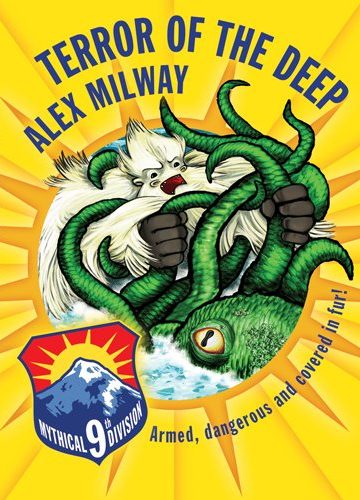 #2 in the Mythical 9th Division Series
The yetis of the Mythical 9th Division are back in a hair-raising Antipodean adventure.
Long, long ago, an underwater archaeologist discovered an ancient and powerful jewel buried deep in the waters of the Pacific Ocean – the Stone of the Sea. Many years later, the same archaeologist, Christian Krall, has used the stone to bring every mythical sea creature on the planet under his control. Now he is plotting to destroy the world from his watery lair off the east coast of Australia. With the Mermen of the Mythical 3rd Division out of action, it falls to the Mythical 9th to stop Krall from creating the biggest tsunami the world has ever seen – a tsunami big enough to obliterate the Earth.
With comic strip chapter beginnings, and detailed illustration throughout, Albrecht, Timonen and Saar's missions are sure to engage both reluctant and eager readers.
⭐⭐⭐⭐⭐ There is more craftsmanship put into writing the Terror of the Deep book than we can find in most of the sci-fiction for adults! – Amazon Review