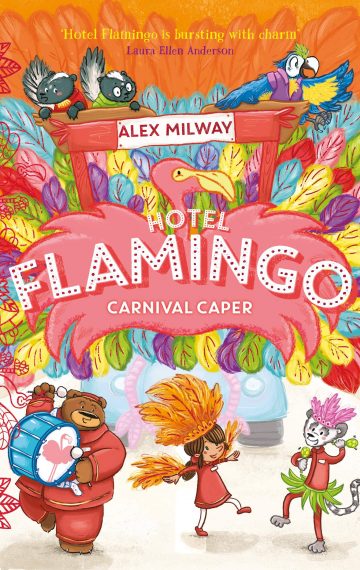 Four-Book Series!
Publisher:

Piccadilly Press

ISBN:

184812807X
Buy from Amazon
Buy from Hive
'We adore these books.' – 5-star Amazon Review
It's the last of the autumn days before winter sets in, which means it's time for CARNIVAL! And Hotel Flamingo, the sunniest hotel in town, is all set to join the party. Animal Boulevard is a riot of colour, and every establishment is preparing a float for the annual procession. Anna is determined to win the prize for Hotel Flamingo for the best display, despite rival hotel the Glitz having won it every year since the Carnival began.
Meanwhile Hotel Flamingo is welcoming its usual array of eclectic guests. Wilbur the sheepdog, who has no home, and needs a place to stay and someone to give him a chance at a new start. Mr and Mrs Kunkworth, a pair of skunks, who are rather anxious, and Mac Macaw the parrot, who is quite the opposite … Things start to get complicated, though, when Anna gets some very unexpected guests – the mega-famous band The Nocturnal Animals! How will she keep their stay a secret while also making sure her guests don't get kept awake by the band's night-time practising and antics?
Then on top of this, disaster strikes! The rainy season comes early, and high winds and torrential rain lash down across the Boulevard. Can Anna save the Carnival, the band and the day?
The third in an enchanting four-book series featuring the adventures of Anna and her array of animal friends
'Bursting with charm, friendship and fabulous characters!' LAURA ELLEN ANDERSON