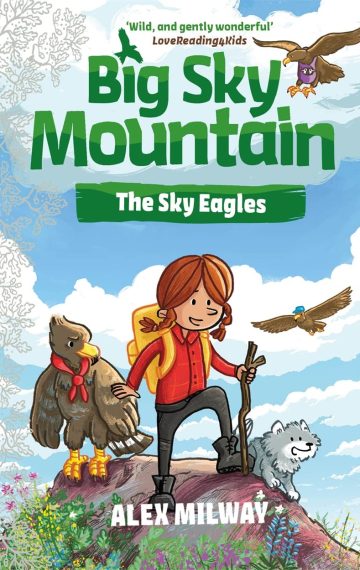 Out Now!
Amazon
The final exhilarating adventure in the great outdoors, from HOTEL FLAMINGO author Alex Milway
When Rosa wakes one morning to find Grandma Nan missing, she must use all of her survival skills to uncover her grandma's whereabouts.
With the help of the mountain community, Rosa's investigation leads her to the very summit of Big Sky Mountain, where a family of eagles are facing huge problems of their own. Through helping the eagles, Rosa realises she really is at home on Big Sky Mountain.
Contains around 60 two-colour illustrations, in black and blue.
BIG SKY MOUNTAIN is a love letter to nature and the wild, inspired by Alex's own childhood with his grandma in the Malvern Hills, and the woodland and cabin he now owns in Kent.
PRAISE FOR BIG SKY MOUNTAIN: THE SKY EAGLES   
"This series never disappoints and The Sky Eagles was a great new addition." – Tamsin S, Educator
"One of my favourite series for younger readers… Filled with animals, nature and awareness of environmental impact, Rosa and Nan live a simple but plentiful life, filled with friends, work and the great outdoors." – Erin H, Librarian
"I really enjoy how this deals with being brave, being kind to animals and how you should always believe in yourself." – Stephanie E, Reviewer
"Another lovely story in this series, but this time with a very serious message about getting older and the problems with memory loss. I have read all of this series and they are just a joy" – Margaret P, Librarian